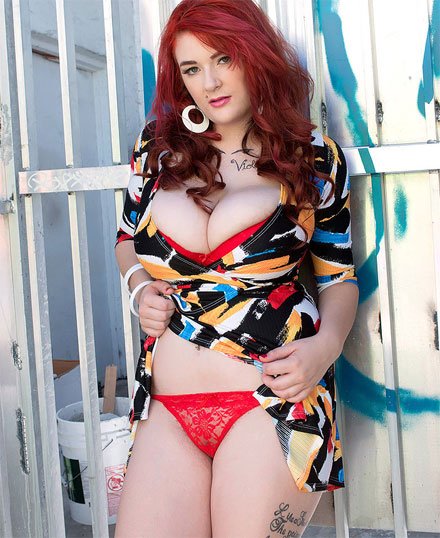 Harlow Nyx is a born show off, a musician and playful model with huge fucking tits and a sexy attitude. She's that girl who isn't a 10 to look at but about an 11 or 12 in bed – or in getting naked in public. This set has her in a dress and matching red bra and panties, and she does a great job showing off both and a little bit more, all in public!
While here at SCORE all the way from a small town in Missouri, Harlow Nyx made a few side trips to Miami. Talkin' it to the streets, Harlow and our photographer found a secluded spot in the popular Arts District, a neighborhood plastered with graffiti everywhere. This area appealed to Harlow. When she found the right place, Harlow popped out her huge natural tits and flashed her pink coochie. Like her previous Bonus photo sets, some of these shots would make a good album cover for Harlow, a musician.
She's certainly into showing off her panties and pussy – and big tits too!
Download all of Harlow Nyx hot sets from Score, click here and get busy with yourself!